Sport, exercise and fitness has without doubt dominated my life. From the moment I can remember I was either kicking a ball, swinging a bat, running around or riding bikes.
Now a bit older, I still actively play sport and know how important it is to keep my muscles healthy so I can continue doing what I love. After receiving my first sports massage some years ago I soon experienced the benefits and realised that this therapy should play a key role in my whole fitness cycle. 
After studying Level 4 in Sports Massage Therapy at St Mary's University in Twickenham, and subsequently expanding my knowledge with renowned Sports Osteopath, John Gibbons to become a Bodymaster Method® Practitioner, it's now my aim to support others to ensure they can keep active and enjoy their sports.
ReGo Sports Therapy is a small business with a big ambition, to support athlete's and sports enthusiasts to keep going, time and time again. And if you're not heavily into sport but have a few niggles from the stresses of life, I'm here for you too.
I offer appointments from my fully equipped studio at home, as well as a mobile service covering a 20 mile radius around Corby. This captures Kettering, Wellingborough, Market Harborough, Northampton, Peterborough and surrounding areas.
My approach is to listen and assess your needs before delivering any treatment. When you're ready to have a treatment it will be tailored to you, to address a specific requirement. The primary goal is to get you pain-free with a restored range of motion as quickly as possible.
Level 4 Sports Massage Therapy (VTCT/ITEC)
Level 5 Bodymaster Method Diploma
- Pelvis, SIJ & Lumbar Spine
- Vital Glutes & Psoas
- Vital Shoulder Complex
- Vital Hip Complex
- Vital Cervical Spine
- Vital Knee Complex
- Vital Nerves
- Muscle Energy Techniques
- Kinesiology Taping
- Advanced Soft Tissue Techniques
Level 5 Certificate Rehabilitation for Sport & Exercise
Dry Needling Certificate
Level 3 Diploma Sports Massage Therapy (VTCT/ITEC)
Level 2 Award in Infection Prevention (VTCT/ITEC)
First Aid Trained
DBS Checked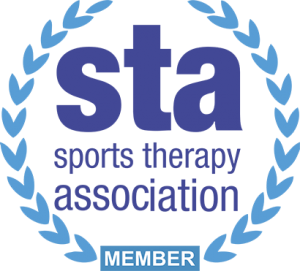 Would you like to know more?
If you have a specific question then please get in touch, I'd be happy to help.
"As a sportsman that demands a lot of himself, Mike understands how sportsmen and women think. That empathy means he's always looking for the best way to keep you in the game or improve your performance."
"Mike was extremely helpful ahead of an event when I was being troubled by muscle tightness and cramps. His treatments energised me and gave me confidence in my body to compete in my race."
"Really good sports massage and just what I needed after a tough summer of cycling and running. The massage made my legs feel much fresher and eased the little issues I had picked up."
"The massage on my back and legs made me feel super refreshed for training - even helped me get a few PB's! Mike also identified areas of tightness that I wasn't aware of and gave me tips to try and prevent them in my day to day life. The experience was very comfortable and I can't wait for my next one!"
"100% highly recommend Mike, puts you at ease straight away and a true professional, have had many a massage but none more so than this one that has felt like true medicine for my back, going to be making this part of my monthly health and well-being routine."
"Mike certainly knows what he is doing. I think being an active sportsperson himself it added to understanding from normal masseuses, although my back injury was sustained from collecting firewood in my garden Mike knew what to do and I'm on the road to recovery."